American football coach Peter Clay Carroll is the head coach of the Seattle Seahawks and executive vice president of the National Football League.
From 2001 to 2009, he was the head football coach at USC, winning six bowl games and two National Championships in 2003 and 2004.
How many teams has Pete Carroll coached? List of all groups coached
Carroll was born in San Francisco, California, on September 15, 1951, to Rita (née Ban) and James Edward Jim Carroll.
His Croatian maternal grandparents immigrated from the ibenik region, and two paternal great-grandparents were Irish immigrants.
He went to Greenbrae School and was raised in Greenbrae, California. Carroll attended Larkspur, California's Redwood High School. Below is the list of Pete's teams he has coached.
Pacific (1973–1976) Graduate Assistant
Arkansas (1977) Graduate Assistant
Iowa State (1978) Secondary coordinator
Ohio State (1979) Secondary coordinator
North Carolina State (1980–1982) Defensive coordinator
Pacific (1983) Defensive coordinator
Buffalo Bills (1984) Defensive backs coach
Minnesota Vikings (1985–1989) Defensive backs coach
New York Jets (1990–1993) Defensive coordinator
New York Jets (1994) Head coach
San Francisco 49ers (1995–1996) Defensive coordinator
New England Patriots (1997–1999) Head coach
USC (2001–2009) Head coach
Seattle Seahawks (2010–present) Head coach & Executive VP of football operations
The Seattle Seahawks are a professional American football team based in Seattle. The Seahawks compete in the National Football League (NFL) as a member club of the league's National Football Conference (NFC) West,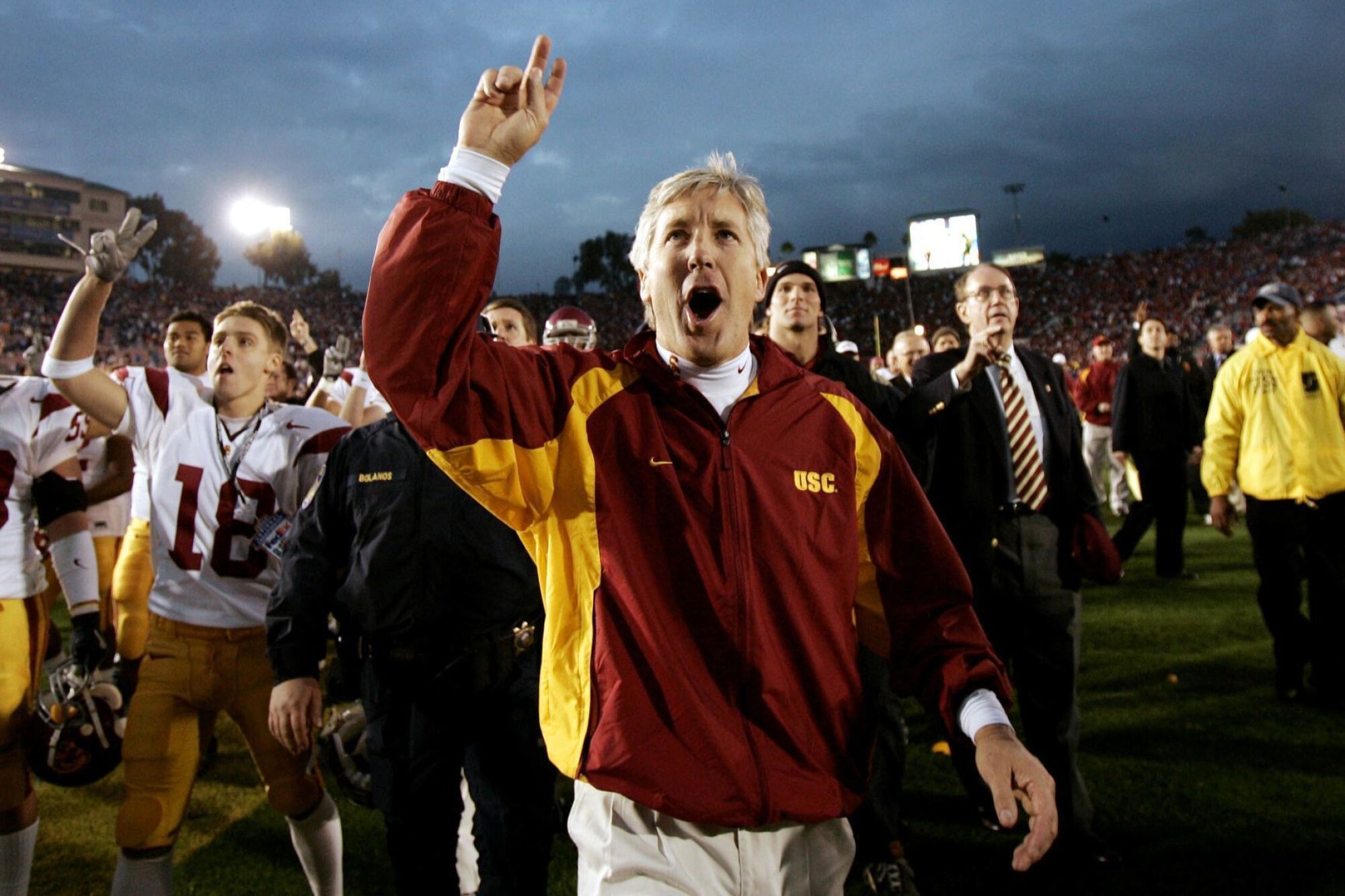 which they rejoined in 2002 as part of a conference realignment. The club entered the NFL as an expansion team in 1976.
On offense, Carroll is known for using aggressive play-calling that is open to trick plays as well as going for it on 4th down instead of punting the ball away.
Because of his aggressive style, the USC band gave him the nickname Big Balls Pete. At USC home games, when Carroll decided to go for it on 4th down, the USC band would start a chant of Big Balls Pete that carried over to the student's section and the alumni.